Kim Kardashian Responds to Blackface Backlash on Keeping Up as Khloe & Tristan Heat Up: "I've Never Been This Happy"
Kim Kardashian meant no harm.
On tonight's Keeping Up With the Kardashians, Kim faced backlash after fans online claimed she was in blackface in her KKW Beauty ads.
"Oh my gosh. I'm seeing these photos from the campaign, the ones that we took. And people online are saying that I'm doing blackface but I would never in a million years be disrespectful and do that," Kim said.
She explained of the photos, "We wanted them really moody, I was really tan. I wanted to show the contour. The photos ended up being a little darker than I was and there was some people online saying that I was doing blackface and the photos were inappropriate."
After calling Jen Cohan, Chief Digital Officer at Jenner Communications, and asking her to have the photos fixed, Kim felt a little better. "I mean I get it. I was super tan, the lighting is really moody so I get why people would say that. I just want to give anyone a reason to say something negative," Kim said. "I would never disrespect anyone."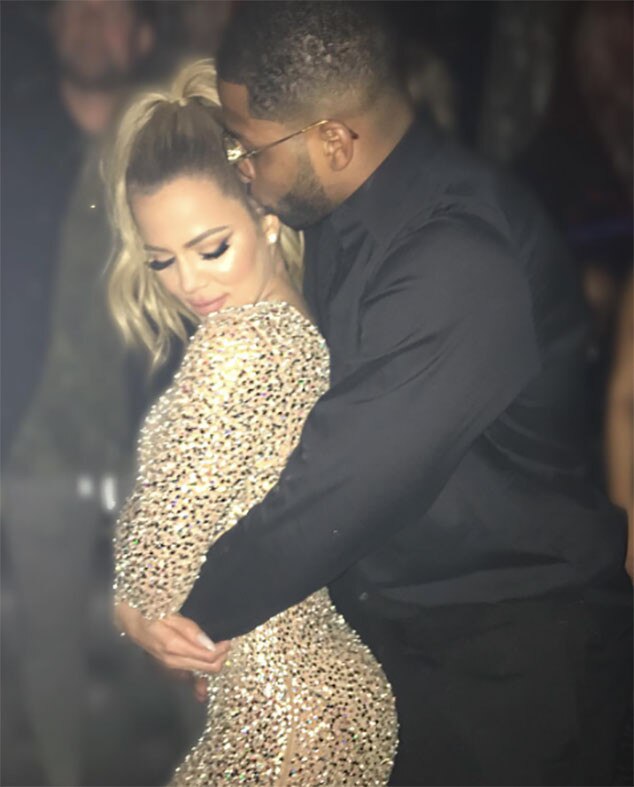 Instagram
Meanwhile, Tristan Thompson proved he was an A+ boyfriend by throwing a surprise birthday party for Khloe Kardashian with all her friends and family (except Scott Disick). "I've never had a surprise party ever," Khloe said. "We were at dinner, Tristan was so calm, like he was as cool as a cucumber. He's good at surprise parties because I had no idea."
During the bash, Tristan make a very sweet speech. "First thing, of course, happy birthday. Another year, another life, another year on this beautiful earth.," he said. "I'm very honored and glad to be a part of your journey…Baby, it's your day, it's your month, it's your year.  And I feel good being around you, girl."
"I'm having the best time," Khloe gushed. "Tristan is just incredible. I've never been this happy. I am so lucky to be with someone that is so thoughtful and so sweet."
Watch the KUWTK recap above to see what else went down on tonight's episode, including Scott losing it on Kourtney Kardashian!
Watch a brand new episode of Keeping Up With the Kardashians Sunday at 9 p.m., only on E!