Chloe Kim's Road to Olympic Gold: Early Mornings, KFC, Bridging Cultures and Having a Blast
Alexander Hassenstein/Getty Images
You know Southern California. We love our sun, our sandy beaches, our shorts and our extreme-sport winter athletes.
It just so happens that SoCal birthed two of the biggest stars at the Winter Olympics right now: Snowboarders Shaun White, whom everyone has known for almost 20 years, and Chloe Kim, whom everyone is getting to know right now.
The 17-year-old made history yesterday in Pyeongchang with her gold medal showing in the women's halfpipe event (White's chance to win his third halfpipe gold comes later today), becoming the first woman snowboarder to land back-to-back 1080s (a jump involving three full rotations, or 360s—get it?) at these Games and the youngest ever female medalist in a snow event.
She was grappling for the proper Instagram caption last night and she still was searching for just the right words today—but we can imagine that the victory she's worked so hard for tasted even sweeter than the churros she snacked on this week to calm her nerves and the ice cream she was craving, and perhaps was even more satisfying than the piece of breakfast sandwich she left behind before her winning performance.
"It really hasn't sunk in yet," a gleeful Kim told Savannah Guthrie and Hoda Kotb on Today Tuesday before digging into a platter of churros, cookies & cream ice cream and a breakfast sandwich prepared specially for her.
After a 93.75 on her first run gave her a comfortable lead, she could've played it safe. Instead, she put the icing on her first Olympic gold medal cake with a nearly perfect score of 98.25 on run No. 3 after executing that pair of 1080s. "That third run was just for me," she told reporters afterward. "To show myself that I could do it."
Liu Jiayu of China earned silver and Kim's teammate Arielle Gold took the bronze.
Kim recalled the overwhelming emotion on Today. "I was like, 'I can't cry right now. I can't do this. I worked so hard on my eyeliner!'" Kim laughed. But overall, "It's such an honor to just represent the U.S. and the country where my parents immigrated from. This whole process has been amazing, and this journey has been so fun and full of so many memories that I will hold onto for the rest of my life."
Dad Jong Jin Kim and mom Boran couldn't believe it, either—though they had certainly envisioned such a moment for their only daughter. You know that old adage that within hours in California you can be at the beach and in the mountains? True story.
Jong, who along with his wife immigrated to California (after meeting in Switzerland) and settled in the Orange County city of La Palma, took 4-year-old Chloe snowboarding at Mountain High, a ski resort located about an hour and a half from L.A. Kim loves telling the story about her dad using her, a wee toddler, as "bait," because he figured his wife would feel too guilty not to come along for the adventure.
Though no expert himself, Jong encouraged his daughter's early ability. She won her first junior competition when she was 6.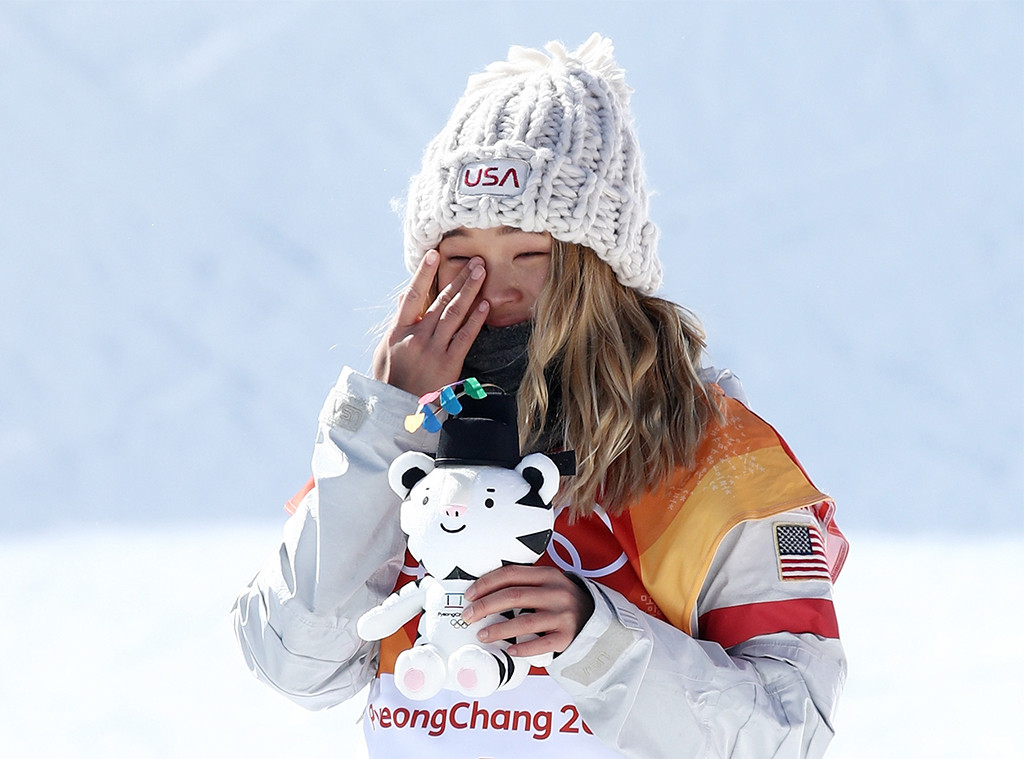 Cameron Spencer/Getty Images
Kim spent several of her formative years living with an aunt in Switzerland to be closer to the mountains—the Alps—and then enrolled in a training program at Mammoth Mountain, in eastern California along the Sierra Nevadas, upon her return to the States.
Jong ultimately quit his job as an engineer to devote himself full time to Chloe's training. He was hardly the first parent who decided to make that move (just to name one, skiing powerhouse Mikaela Shiffrin's mother is her coach and constant traveling companion), but only a relative handful of athletes make it to the top of that proverbial mountain.
"My family has sacrificed so much for me and accomplish this dream of mine," Kim told NBC Sports after her first Olympic win. "Being able to do that in their home country is amazing."
She had previously told the Washington Post, "Obviously, when I was 8, I had no idea what [her dad] was doing. It was like, 'Why is Dad home more,' you know? But now that I think about it, you know, I feel like it was a really bold move, and I can't believe my mom was OK with it."
At 13 years old she was too young to compete in the 2014 Sochi Olympics, but the Winter X Games were happy to have her and she earned a silver in the superpipe event. In 2015, Kim came back and won gold. Same in 2016. She turned in an uncharacteristic bronze medal performance at the 2017 Winter X Games, but she was back on top in 2018 heading into the Olympics.
Kim was the only athlete, male or female, to have three X Games gold medals before the age of 16. At the U.S. Grand Prix in 2016 she became the first woman snowboarder to land those back-to-back 1080s in competition and first to score a perfect 100.
Veteran snowboarder Kelly Clark, who finished just off the halfpipe podium in Pyeongchang yesterday, beat Kim at the teen's inaugural X Games, but was impressed by the kid's skill even then. 
"These women are the future of snowboarding," Clark told the LA Times yesterday, referring to Kim and Gold. "They're just getting started."
Petitely built at 5'2 and rocking golden highlights (now, anyway—her hair has been many shades over the years), Kim, who has two sisters, also likes regular teenage things—like pop music, her dog, Reese, and social media—when she's not training. Which she's usually doing, all the time. When she was younger (or at least before she had her own license) she'd sleep in the car while her dad made the 5 1/2-hour drive to Mammoth every weekend. When she was of junior-high age her parents started homeschooling her.
Whatever natural ability she has has been supplemented by the usual insane work ethic you tend to find among elite athletes, whether they're driven by their own internal fire, urged along by their families and coaches or a combination of the two.
But other than the danger of Kim melting the snow with her radiant smile, seemingly endless energy and big, warm heart, this kid was born for the public stage. Or was she?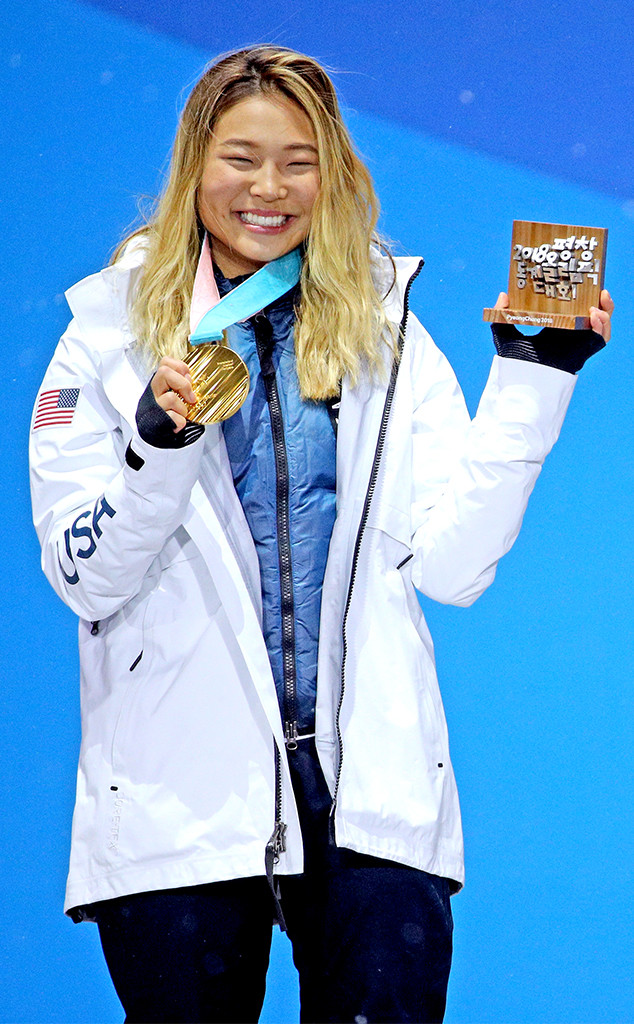 Chris Graythen/Getty Images
"Snowboarding brought me out of my shell," Kim told reporters last month while preparing for her first Olympics. "You know, if you meet someone for the first time, they're not going to bite you." (In the profile, before she became more widely known for her frequent shout-outs to food, she name-checked KFC and Chipotle.)
She recalled being so freaked out by the photographers angling for pictures while she was meeting with a group of schoolkids during a goodwill trip to South Korea that she almost ran away. But then she calmed down and, "like Kim Kardashian," made sure they snapped her from her good side.
While she's got 1080s and McTwists and cab 720 melons down (seriously, what is this terminology), balancing on the at-times treacherous path that zigzags through normalcy and stardom (and, not to mention, wealth) could be trickier.
Toyota signed her up when she was barely 16, she was featured in one of the Winter Olympics Super Bowl commercials, she's one of the most prominent Nike-sponsored athletes in Pyeongchang and—watch the eyeliner, indeed—she's the first-ever North American ambassador for Korean beauty line Laneige as well. Add to that Samsung, Oakley and Visa and you've got many dollar signs.
Plus, as a Korean-American athlete, she wants to represent both her parents' culture and her own to the best of her ability. And though she digs K-pop and Korean cuisine and speaks English, Korean and French (thank you, childhood in the Alps), that hasn't entirely come easily for her, having grown up predominantly as a So-Cal kid.
"I'm so used to America, used to the traffic in L.A., and I don't really feel it click with the Korean culture," she told the Washington Post recently (adding In-N-Out to the food shout-out tally). "But obviously I have a Korean face, and I feel like that's just—you know, I can't walk around people like I'm like straight-up American. It's like, I'm Korean-American. My parents are from Korea.
"I don't know. It's weird. I just grew up in the States, so I feel like I identify more with the American culture."
That being said, she has already reached idol status in parents' native country, where she still has lots of family, so add role model to the list of descriptors she's inherited.
"I'm, like, finishing up high school," she told the Post. "I don't know how you can learn anything from me because I'm still like a teenager. I don't know what I'm doing with my life."
And while it was her father who steered her into snowboarding, "I think at first it was a little hard for [the family back in Korea] to support it because, you know, I feel like a Korean's ideal thing is their kid being like a lawyer, a doctor."
A history-making Olympic gold medalist two months shy of her 18th birthday will just have to do.
Tune in to NBC to watch the Winter Olympics.